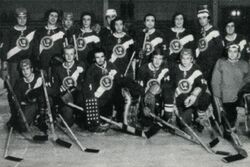 Turbine Milano was an ice hockey team in Milan, Italy.
After the dissolution of Diavoli HC Milano, Turbine Milano, playing in the Serie B, became the sole team in Milan. They finished tied for first in the Serie B in the 1976-77 season, level with HC Asiago with 30 points apiece. To determine the winner, a tiebreaker tournament was scheduled to be played in Bolzano, but a few days after the end of the season, the Italian Federation elected to expand the size of the Serie A, and thus allowed both teams to be promoted to the league.
The team was re-named Diavoli HC Milano in 1977, revitalizing the old squad's name and ensuring its return to the top-tier in 1977-78.