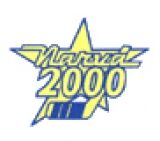 Kreenholm/Narva 2000 was an ice hockey team from Narva, Estonia. The club existed both during Soviet times and after independence.
Initially known as Narva Kreenholm, the club participated in the Estonian SSR Championship from the 1960s onward. They won the championship on eight occasions between 1967 and 1990.
The club won the Meistriliiga, Estonia's new top league after regaining its independence, a total of eight times. Beginning in 1998-99, they became known as HK Narva 2000. Seven of the titles came under their old name while the 2001 championship was claimed as Narva 2000.
Narva 2000's last season in the Meistriliiga was 2002-03. PSK Narva was then established and joined the league the following year.
Achievements
[
]
Estonian SSR champion (8): 1967, 1969, 1971, 1973, 1975, 1986, 1988, 1990
Estonian champion (8): 1991, 1992, 1993, 1994, 1995, 1996, 1998, 2001