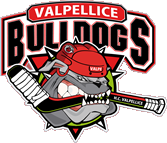 The HC Valpellice Bulldogs are an ice hockey team in Torre Pellice, Italy. Founded in 1934, the club currently plays in the Serie A, the top level of Italian hockey.
History
[
]
Originally known as Valpellice Sporting Club, they made their debut in the second-level Serie B in 1953-54, promptly winning the league championship. The club was however forced to decline a spot in the Serie A, which became available with their league title, due to financial reasons. They were dissolved in 1957.
The club was re-founded in 1962 as Union Sportive Valpellice, and spent the entire decade playing in the third-level Serie C. They earned promotion to the Serie B after a second-place finish in 1971. Valpellice later qualified for the top-level Serie A in 1977, and spent seven years in the league, returning to the Serie B in 1983-84.
Valpellice went into decline after relegation, eventually falling back to the Serie C. After a brief return to the Serie B2, the club went dormant at the conclusion of the 1991-92 seasons due to arena issues.
The renovations were not completed until 1996, when the club was finally able to return to action. They played in the Serie A in the 1999-2000 season, reaching the playoff quarterfinals. Their ice rink's roof was then destroyed, thus rendering the club inactive once again.
The club was re-established again in 2002, and joined the Serie C for the 2002-03 season. They embarked on a short-lived merger with HC Torino the following year. The merged club, known as HC Torinovalpe, played in the Serie A for the 2003-04 season, finishing in 9th place in the league.
The merger then broke off, with HC Torino remaining in the Serie A as an independent club and Valpellice going down to the Serie A2, where they remained until 2009. They then obtained a license to join the Serie A for the 2009-10 season.
Valpellice won the Coppa Italia in 2013, defeating HC Alleghe in the final. They also reached the final of the Serie A the same year, falling to HC Asiago 4 games to 1.