Tags: Visual edit, Mobile web edit, Mobile edit

 

Line 43:
Line 43:
 

*1985: Canterbury IHA

 

*1985: Canterbury IHA

 

*1986: Gore

 

*1986: Gore

−

*1987-2005: ''unknown''

+

*1987:

 
+

*1988: Queenstown I.H.A

 
+

*1989: Gore I.H.A

 
+

*1990: Gore Grizzlies

 
+

*1991: Oturehua CRT

 
+

*1992: Albury Kings

 
+

*1993: Alexandra Flames

 
+

*1994: Dunedin Penguins

 
+

*1995: Dunedin Penguins

 
+

*1996: Dunedin Penguins

 
+

*1997: Dunedin Ducks

 
+

*1998: Dunedin Ducks

 
+

*1999: Dunedin Penguins

 
+

*2000: Dunedin Penguins

 
+

*2001: Dunedin Penguins

 
+

*2002: Queenstown Ranger

 
+

*2003: Queenstown Rangers

 
+

*2004: Queenstown Rangers

 
+

*2005 Queenstown Rangers

 
+

*

 

*2006: Queenstown Rangers<ref>[http://dunedinicehockey.co.nz/files/documents/erewhoncupstats06.pdf 2006 Tournament stats]</ref>

 

*2006: Queenstown Rangers<ref>[http://dunedinicehockey.co.nz/files/documents/erewhoncupstats06.pdf 2006 Tournament stats]</ref>

 

*2007: Queenstown A<ref>[http://dunedinicehockey.co.nz/files/documents/erewhoncupstats07.pdf 2007 Tournament stats]</ref>

 

*2007: Queenstown A<ref>[http://dunedinicehockey.co.nz/files/documents/erewhoncupstats07.pdf 2007 Tournament stats]</ref>
---
Latest revision as of 01:50, 20 June 2021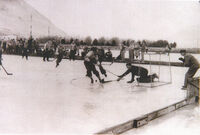 The Erewhon Cup is the oldest ice hockey competition in New Zealand. It was first staged in Opawa, South Canterbury, in 1937. The trophy was donated by Wyndham Barker to the Mt. Harper Ice Skating Club, who then gave it to the New Zealand Ice Skating Association to serve as a challenge cup.
Nowadays it is held in Tekapo, or Naseby as a back-up if there is no ice in Tekapo. It is open to teams from the Southern Ice Hockey League (SIHL). The cup was given to the league in 1992.[1]
Team rosters are limited to 10 skaters and one goaltender. Checking is only allowed in the neutral zone in preliminary rounds, with full-ice contact allowed in the semifinals and final.[2]
Champions[]
1937: Mount Harper (Timaru)
1938: Tekapo (Lake Tekapo)
1939–45: not held
1946: Opawa (Albury)
1947: Tekapo (Lake Tekapo)
1948: Tekapo (Lake Tekapo)
1949: Tekapo (Lake Tekapo)
1950: Tekapo (Lake Tekapo)
1951: Opawa (Albury)
1952: Canterbury Rangers
1953: Canterbury Rangers
1954: Canterbury Rangers
1955: International (Christchurch)
1956: International (Christchurch)
1957: International (Christchurch)
1958: International (Christchurch)
1959: International (Christchurch)
1960: Tekapo (Lake Tekapo)
1961: International (Christchurch)
1962: International (Christchurch)
1963: International (Christchurch)
1964: Aces (Christchurch)
1965: Tekapo
1966: Centaurus
1967: Queenstown
1968: Albury
1969: Oturehua
1970: Albury-Centaurus
1971: Albury
1972-1982: no competition
1983: Canterbury IHA
1984: Canterbury IHA
1985: Canterbury IHA
1986: Gore
1987: Albury I.H.A
1988: Queenstown I.H.A
1989: Gore I.H.A
1990: Gore Grizzlies
1991: Oturehua CRT
1992: Albury Kings
1993: Alexandra Flames
1994: Dunedin Penguins
1995: Dunedin Penguins
1996: Dunedin Penguins
1997: Dunedin Ducks
1998: Dunedin Ducks
1999: Dunedin Penguins
2000: Dunedin Penguins
2001: Dunedin Penguins
2002: Queenstown Ranger
2003: Queenstown Rangers
2004: Queenstown Rangers
2005 Queenstown Rangers
2006: Queenstown Rangers[4]
2007: Queenstown A[5]
2008-2013: unknown
2014: Dunedin Penguins[6]
2015: Dunedin Penguins
2016: Wakatipu Gold Rush
References[]