Constantin "Bâzu" Cantacuzino (November 11, 1905 in Bucharest, Romania - May 26, 1958) was a Romanian hockey player who was among the best in the country prior to World War II.
Biography
Edit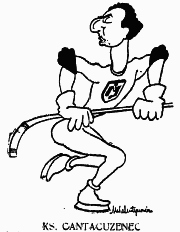 Cantacuzino began his hockey career with HC Rosey Gstaad in Switzerland in 1922. He had previously been introduced to the game in the Austrian capital of Vienna. He later joined Tenis Club Bucharest and played for them for the rest of the 1920s into the 1930s, save for a brief stint with the Austrian club, HC Währing, winning multiple Romanian Championships.
He captained the Romanian National Team and made five appearances with them at the World Championships between 1931 and 1937. Cantacuzino also played for Romania at the last European Championship in 1932.
A man noted for his sportsmanship, Cantacuzino asked the referee to write a message addressed to the American National Team after losing to them 15-0 at the 1931 World Championship. It read, "Thank you for playing against us, we have learned a great deal from this game."
Cantacuzino joined the newly-founded HC Bragadiru Bucharest in 1935 and promptly won the 1936 Romanian Championship with them. He later went on to play for Venus Bucharest from 1939-1942.
Born into a powerful family that had royal heritage, Cantacuzino had the official title of "Prince". He was extremely affluent and was known to have a taste for women, numerous sports, as well as cars and especially airplanes.
The most decorated air force fighter pilot in Romania, Cantacuzino went on 608 recorded combat missions and tallied 56 confirmed kills. After the war, he left Romania with the arrival of communist authorities, who confiscated his extensive private properties.
He passed away after complications during an operation that was performed in Spain on May 26, 1958, at the age of 52.
References
Edit
Special thanks to Patrick H. for supplying information on this player.
Community content is available under
CC-BY-SA
unless otherwise noted.