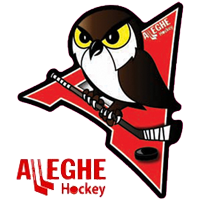 HC Alleghe is an ice hockey team in Alleghe, Italy. They play in the Elite.A, the top level of Italian ice hockey.
History
[
]
Prior to World War II, hockey was a big sport in the area and attracted many enthusiastic athletes. The hockey club was founded in 1933; however, they did not participate in any championships until 1946. The team played on a natural ice rink on a nearby lake until 1952 when the rink was moved to a river.
The team was not very successful. The introduction of import players (mostly Italian-Canadians) raised salaries in the Serie A. This forced Alleghe to drop to the lower Serie B.
It won the B title in 1963 and was entitled to rejoin Serie A. Alleghe did so on 1965 but dropped out at the end of the season because of financial problems.
The team restarted in 1970 with an outdoor artificial ice rink. It won the Serie C championship and quickly jumped back into the Serie A. The rink was covered in 1985.
The team was the surprise winner of the Alpenliga in 1992-93.