1954 World Ice Hockey Championships
Tournament details
Host nation
 Sweden
Dates
26 February–7 March
Teams
8
Champions
 Soviet Union (1 title)
Tournament statistics
Games played
28
Goals scored
222  (7.93 per game)
Attendance
148,399  (5,300 per game)
Scoring leader(s)
Moe Galand 20 points
The 21st Ice Hockey World Championships and 32nd European ice hockey championships were held from 26 February to 7 March 1954 in Stockholm, Sweden. Every team played each other once with the top three finishers receiving medals at the end. The USSR won in its first attempt, led by Vsevolod Bobrov who was recognized as the best forward of the tournament in the first ever presentation of Directorate Awards.
Description
[
]
The USSR won their first five games before meeting up with the host, and defending champion, Sweden. Sweden, having already lost eight to nothing to Canada, desperately needed to beat the Soviets, but settled for a one all tie. The final game of the tournament pitted the East York Lyndhursts, representing Canada, against the USSR, both teams being undefeated. Tournament organizers believed the Canadians would cruise to their seventh straight win and had begun to sell tickets for a planned tie-breaking game between the Soviets and Swedes to determine the European Championship.[1][2] However the Soviets "appeared to pass too much, check too little, and skate too fast"[1] and "thoroughly dominated" in a 7–2 win before 16,000 fans.
Beginning with this year the IIHF began giving out official awards (known as the "directorate awards") to the best forward, defensemen, and goaltender, of the tournament.
Final round
[
]
Standings
[
]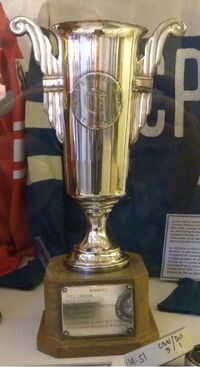 European Championships final rankings
[
]
Team rosters
[
]
| Place | Team | Player |
| --- | --- | --- |
| 1 |  Soviet Union | Goaltenders: Nikolai Puchkov, Grigori Mkrtychan. Defensemen: Pavel Zhiburtovich, Alfred Kuchevski, Dmitri Ukolov, Alexander Vinogradov, Genrikh Sidorenkov. Forwards: Vsevolod Bobrov, Viktor Shuvalov, Alexei Guryshev, Yuri Krylov, Mikhail Bychkov, Alexander Uvarov, Valentin Kusin, Yevgeni Babich, Nikolai Khlystov, Alexander Komarov. Coach: Arkady Chernyshev |
| 2 |  Canada | Goaltenders: Don Lockhardt, Gavin Linsday. Defensemen: Russel Robertson, Harold Fiskari, Douglas Chapman, Thomas Campbell, Tom Jamieson. Forwards: William Shill, Eric Unger, William Sluce, Maurice Galand, Norman Gray, Earl Clements, John Scott, Robert Kennedy, John Petro, George Sayliss. Coach: Gregory Currie. |
| 3 |  Sweden | Goaltenders: Hans Isaksson, Tord Flodqvist. Defensemen: Ake Andersson, Göte Almqvist, Ake Lassas, Sven Thunamn, Lars Björn. Forwards: Holger Nurmela, Stig Carlsson, Erik Johansson, Stig Tvilling, Gösta Johansson, Rolf Petersson, Sven Tumba Johansson, Hans Oeberg, Göte Blomqvist. Coach: Folke Jansson. |
| 4 |  Czechoslovakia | Goaltenders: Jan Richter, Jiří Kolouch. Defensemen: Karel Gut, Václav Bubník, Stanislav Bacílek, Miroslav Nový, Miloslav Ošmera. Forwards: Miloslav Charouzd, Bronislav Danda, Vlastimil Bubník, Jiří Sekyra, Václav Pantůček, Miroslav Rejman, Miroslav Pospíšil, Vladimír Zábrodský, Vlastimil Hajšman, Milan Vidlák. Coaches: Vladimír Bouzek, Jiří Anton. |
| 5 |  West Germany | Goaltenders: Ulrich Jansen, Richard Wörschauer. Defensemen: Toni Biersack, Bruno Guttowski, Karl Bierschell, Martin Beck, Ernst Eggenbauer. Forwards: Xaver Unsinn, Markus Egen, Josef Huber, Rudolf Weide, Jakob Probst, Günther Jochems, Hans Rampf, Fritz Poitsch, Hans Pescher, Kurt Sepp. Coach: Frank Trottier. |
| 6 |  Finland | Goaltenders: Unto Viitala, Esko Niemi. Defensemen: Matti Rintakoski, Ossi Kauppi, Matti Lampainen, Panu Ignatius. Forwards: Olli Knuutinen, Teppo Rastio, Teuvo Takala, Yrjö Hakala, Christan Rapp, Erkki Hytönen, Rainer Lindström, Reino Rautanen, Esko Rekomaa, Lauri Silvan, Aarne Hiekkaranta. Coach: Jarl Ohlson. |
| 7 |  Switzerland | Goaltenders: Jean Ayer, Martin Riessen. Defensemen: Emil Handschin, Paul Hofer, Rudolf Keller, Jeanpierre Uebersax, Willy Stauffer. Forwards: Gebhardt Poltera, Ulrich Poltera, Bixio Celio, Franzis Blank, Otto Schläpfer, Ladislav Ott, Walter Keller, Michael Wehrli, Hans Ott, Paul Zimmermann. Coach: Hauser. |
| 8 |  Norway | Goaltenders: Artur Kristiansen, Knut Kristiansen. Defensemen: Roar Bakke, Knut Blomberg, Per Voight, Arne Berg. Forwards: Leif Solheim, Øyvind Solheim, Egil Bjerklund, Jan Erik Adolfsen, Ragnar Rygel, Bjørn Gulbrandsen, Svein Adolfsen, Fim Gundersen, Kjell Kristiansen, Svere Gulbrandsen. Coach: Carsten Christensen. |
Gallery
[
]
Citations
[
]
References
[
]
Duplacey, James (1998). Total Hockey: The official encyclopedia of the National Hockey League. Total Sports, 498–528. ISBN 0-8362-7114-9.

 

Podnieks, Andrew (2010). IIHF Media Guide & Record Book 2011. Moydart Press, 134.

 
External links
[
]