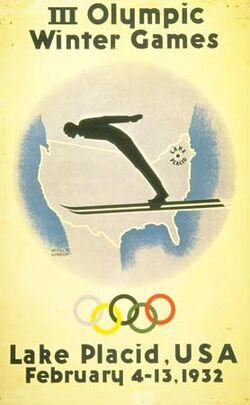 At the 1932 Winter Olympics, the ice hockey tournament was contested by only four teams. The competition was held from Thursday, February 4, 1932 to Saturday, February 13, 1932. Canada won the gold medal, the United States took the silver medal and Germany claimed one of its two all-time hockey medals by taking the bronze (West Germany also won the bronze medal in 1976).
Medallists
[
]
Participating teams
[
]
The Great Depression had taken its toll on the world economy. Most of the European nations could not afford to send a hockey team to the United States only to be humiliated by the Canadian and American teams.
After a lot of lobbying by the Americans and promises of financial assistance, Germany and Poland agreed to send teams.
This was the first time that European hockey teams would visit North America.
Both Germany and Poland went on tours of the United States (see 1931-32 International Club Matches).
Canada was represented by the Winnipeg Winnipegs, who had won the Allan Cup the previous season. They took a break from their current season to play in the tournament.
Tournament
[
]
4 Feb
 United States
1:2 OT
(0:0,0:1,1:0,0:0,0:1)
 Canada
4 Feb
 Germany
2:1
(0:0,1:1,1:0)
 Poland
5 Feb
 United States
4:1
(1:0,2:0,1:1)
 Poland
6 Feb
 Canada
4:1
(2:0,2:0,0:1)
 Germany
7 Feb
 Canada
9:0
(2:0,5:0,2:0)
 Poland
7 Feb
 United States
7:0
(3:0,2:0,2:0)
 Germany
8 Feb
 United States
5:0
(1:0,1:0,3:0)
 Poland
8 Feb
 Canada
5:0
(2:0,1:0,2:0)
 Germany
9 Feb
 Canada
10:0
(5:0,1:0,4:0)
 Poland
10 Feb
 United States
8:0
(2:0,2:0,4:0)
 Germany
13 Feb
 Germany
4:1
(0:0,2:1,2:0)
 Poland
13 Feb
 United States
2:2 OT
(1:1,1:0,0:1,0:0,0:0,0:0)
 Canada
Top scorer
[
]
| Team | GP | G | A | Pts |
| --- | --- | --- | --- | --- |
| Walter Monson | 6 | 7 | 4 | 11 |
Final ranking
[
]
1
 Canada
represented by:


Winnipeg Hockey Club

2
 United States
3
 Germany
Rudi Ball (Berliner SC)
Alfred Heinrich (SC Brandenburg Berlin)
Erich Herker (Berliner SC)
Gustav Jaenecke (Berliner SC)
Werner Korff (Berliner SC)
Walter Leinweber (EV Füssen)
Erich Romer (Berliner SC)
Martin Schröttle (SC Riessersee)
Marquard Slevogt(SC Riessersee)
Georg Strobl (SC Riessersee)
4
 Poland
Adam Kowalski
Aleksander Kowalski
Wlodzimierz Krygier
Witalis Ludwiczak
Czesaw Marchewczyk
Kazimierz Materski
Albert Mauer
Roman Sabinski
Tadeusz Sachs
Kazimierz Sokolowski
Jozef Stogowski
Team Photos
[
]
References
[
]